Online Admission (Under Graduate)
RISHI BANKIM CHANDRA COLLEGE
Affiliated to West Bengal State University
Accredited By
NAAC
with Grade
B++
(2016-2021)
Kanthalpara, Naihati, North 24 Parganas, West Bengal - 743165
As per Government Order 43-SS (CS / A) / 2020 Dated: 13.08.2020, Applicants do not have to pay any application charge in UG Courses for Admission in 2020 Session.
ONLINE ADMISSION OPEN FOR WBSU AFFILIATED REGULAR SEMESTER BASED UNDER GRADUATE COURSES FOLLOWING CBCS CURRICULUM.

Applicants must have their OWN EMAIL ID. Using EMAIL IDs of Cyber Cafe etc. may lead to cancellation of the Application Form Those who do not have their own email ID, are advised to open their email ID before filling up the form.

As per Government order 434-EDN(CS)/10M-95/14 dated: 16.07.2020, Applicants NEED NOT come to the College during the Admission Process.
Important Announcements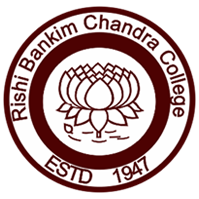 Confirmation of admission from the College office by submitting the original documents to be notified later

Online Admission for Semester-II & IV Under Graduate (B.A, B.Sc & B.Com) is Going on

email:
admission.rbc@gmail.com
For any information or problems related to the admission process, please write to us: -
email:
admission.rbc@gmail.com
Students are also advised to get their roll number from right side menu by submitting their Application ID and date of birth.


It is for information of all the newly admitted students in B.A./B.Sc./B.Com (Hons & Gen) 1st Semester, 2020 of the College that they may change their subject combination in general subjects only according to the valid combination prescribed by the College. But 'Change of Honours course' and 'Change of Stream' will not be allowed.
Subject change fee of Rs
.
100/-
has to be paid through online.

Last Date of Subject Change:
15.11.2020.
It is notified for information of all the 2nd & 4th Sem. students of B.A./ B.Sc./ B.Com (Hons. & Gen. ) of the college , ( Jan'20 to June' 20) that online admission iñ 4th Sem. will commence on & from 17.10. 2020 as per schedule fees structure & it will be continued up to 30.10.2020.
All the students of 4th Sem. are hereby instructed to take admission in 4th Sem positively within the stipulated period.
Last date of Admission (Semester-II & IV) : 31.10.2020

Casual Form (1+1+1/CBCS System)


Subject Change


Important:
As per West Bengal Govt Order No. 915-Edn(CS)/10M-95/14, dated 01/11/2020, the college needs the current status of the provisionally admitted students. Therefore, the student has to confirm / cancel his / her admission by filling in the following feedback form within 15.11.20. Failure / neglect / non-compliance of which will result in their admission being cancelled.